Compression Garments and Taping Schedule after Surgery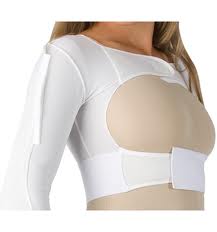 Following your cosmetic surgery, Dallas plastic surgeon Paul Pin will provide you with instructions for care during the next few weeks. The need for, and proper use of, compression garments and medical tape will be some of the most important care instructions you will receive. Here are some pointers to keep in mind to understand their importance in helping you not only heal faster, but have a more successful surgical outcome with minimal complications.
What Is the Purpose of Compression Garments and Taping?
Compression garments and taping apply constant, firm pressure against the surgical site. This will help reduce bruising and swelling, and allow your body to heal much faster. In addition, compression garments and taping reduce the potential of the formation of blood clots, which could become life threatening. In the case of breast implants, taping allows the implants to properly settle into place, as well as reduce swelling.
How Tight Should the Compression Garment and/or Taping Be?
The fit should be firm, but not so tight as to constrict breathing or movement. Make sure garments or bandaging are smooth and not too tight, or they will cause indentations in the skin. For best results, wear them over a t-shirt and pin the bandage in place to prevent slippage. Compression garments should cover from below the lowest point of surgery to above the highest. For example, a compression garment for a tummy tuck should go from the thighs to under the breasts.
How Long Will I need to Use Either Tape or a Compression Garment?
Your doctor will discuss with you how long you may need to use medical tape or a compression garment. Patients that have undergone liposuction, tummy tuck, or any other type of body contouring surgery will need to wear a compression for four to six weeks following surgery to reduce swelling.
In general, women undergoing breast augmentation, lift, reduction, or implant revision will need to wear a compression bra as much as possible during the first two weeks following surgery. At that point, the compression garment can be replaced with a soft, non-underwire bra. You will probably want to sleep in a bra for the first three weeks or so following surgery. Underwire bras should be avoided for six months following breast surgery, to improve comfort and allow nerves and blood vessels to be properly re-established.
After the first two weeks, once any drains or pain pumps are removed, you can replace your surgical compression garments with store-bought versions, such as Spanx. However, if you experience any pain attempting to put on the new compression garment, go back to wearing the original garment.
Medical tape should be used on patients that have undergone facial plastic surgery, including rhinoplasty or facelift. The tape should be applied to the treatment site to encourage the skin to heal directly onto the underlying facial structure. This will reduce the risk of hematoma and the formation of scar tissue. Medical tape should be worn at all times for two weeks after surgery, and then at night for a few months after surgery.
It may seem inconvenient to wear compression garments all the time or keep having to use bandages. However, once you see the end result, you know it will be worth the trouble.
To schedule your plastic surgery consultation with Dr. Pin, or to ask about the proper compression garment schedule, contact our Dallas practice.