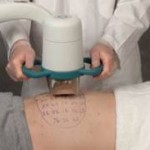 Earlier this month, the U.S. FDA approved marketing for Medicis Pharmaceuticals Corp's new non-invasive fat removal device, the LipoSonix system, which uses ultrasound technology to destroy fat cells.
Days after the FDA cleared marketing of the device, Medicis agreed to sell it to Solta Medical Inc. for $35 million. This business decision allows Medicis to maintain focus on its facial aesthetics and dermatology products.
The Liposonix system is already in use in Europe, Japan, and Canada.
Liposonix Candidates
Patients that are interested in undergoing a liposuction alternative and have at least one inch of excess fat on their stomachs, waistlines, or flanks may be good candidates for Liposonix treatment. In addition, patients should be at least 18 years of age, in good health, and near their ideal body weight (Body mass index should be at 30 or lower).
The Liposonix Procedure
The Liposonix procedure takes about one hour to perform. During the first step of treatment, the physician will use a surgical pen to make markings on the stomach. Next, the Liposonix device is directed at the treatment area, focusing high-intensity ultrasound waves to areas affected by excess fat. Over the next eight to 12 weeks, your body will naturally expel the fat cells from your body, resulting in a slimmer appearance. According to the manufacturers of the device, patients typically drop one dress size after undergoing Liposonix treatment.
Liposonix Side Effects
The Liposonix procedure does not require the use of anesthesia or incisions, making it much less invasive than plastic surgery procedures. However, patients do report some discomfort when undergoing treatment. The most common side effects of treatment include pain, swelling, redness, and bruising.
Although Dr. Pin does not employ use of the Liposonix system at our practice, we do offer liposuction and tummy tuck surgery. Liposuction is still considered to be the most effective fat removal treatment on the market. If you are interested in undergoing liposuction with Dr. Pin, contact our practice today.
Tags: liposuction, Plastic Surgery, weight loss